While the 'Kiwi Dream' of a quarter-acre block with fruit trees and vege patch in the backyard may have become increasingly out of reach in recent years, there is place where visitors can experience just that — and even pick up some transferable skills.
Auckland's Botanic Gardens features a newly revamped 'Kiwi Backyard' display, complete with raised vegetable beds of varying heights to cater to a wide range of accessibility needs. Citycare Property, working with the team at the Botanic Gardens, as well as with their accessibility partner, Be. Lab (formerly Be. Accessible), carried out a full refurbishment of the area in a bid to increase accessibility.
A feast for all the senses
"Over the past six months, Citycare Property's Auckland Minor Capital Works team has worked to change how we present the garden," says Paul Swift, Education & Partnerships Specialist, Auckland Botanic Gardens. "We've reconfigured the space and increased sitting areas, standing areas, places for wheelchair users, and importantly, the surface that we are providing for our visitors; Citycare Property has extended the paved area and is putting in a new path, which will increase access."
The project grew out of a discussion amongst the staff on how to improve accessibility, which led the team to reach out to Citycare Property, to turn the ideas gathered into reality.
As well as creating a garden that promotes accessibility, the goal was to also showcase to visitors the benefits of being outdoors connected with nature, gardening and growing things, and that issues around accessibility need not be a barrier to that.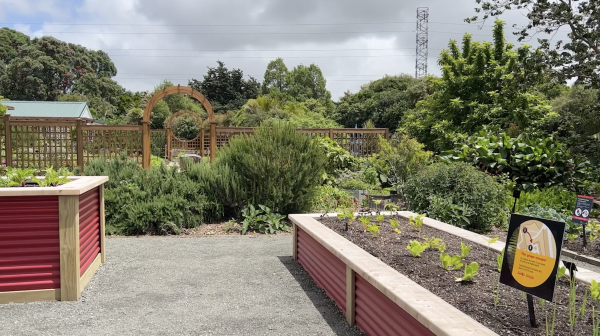 The Auckland Botanic Gardens is located on Hill Road, Manurewa and is open daily from 8am to 8pm during summer. The Kiwi Backyard forms part of the Edible Garden exhibit, which features a range of productive plants — from traditional Kiwi vegetables to more unusual or heritage varieties from around the world — that thrive in Auckland conditions and can be easily grown throughout the year.